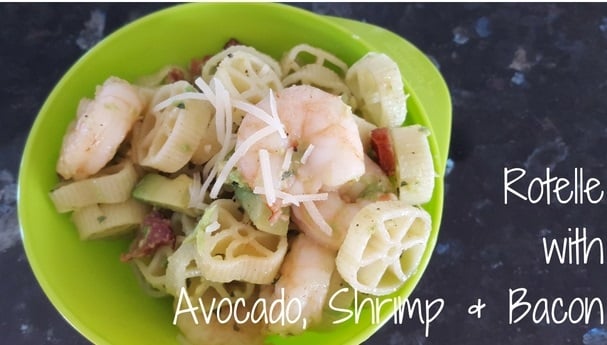 Here's a great summer recipe that is family friendly…  If your family eats avocado, shrimp, and bacon!  One of our employees made it this weekend, and her 2-year-old begged for his own bowl (pictured above).
Ingredients:
1 box wagon wheel pasta (or other small, fun pasta, i.e. bow ties, rotini, etc.)

6 Tbsp extra virgin olive oil (divided)

4 Tbsp Lemon juice

3 Tbsp dried basil (such as this Litehouse Basil)
2 cloves garlic, chopped (feel free to use pre-minced or chopped garlic from produce department, such as this Polaner's chopped garlic)

1 lb peeled and deveined shrimp (tails off)

3 medium avocados (halved, seeded, peeled, and chopped or diced into small cubes)

8 slices bacon

1/2 cup shredded or shaved Italian cheese (i.e. Parmesan, Pecorino Romano)

Salt and pepper
Preparation:
Boil water in a large pot.  Once ready, cook pasta according to package directions (we recommend al dente).  Set aside 1 cup of cooking water, drain pasta in a colander, and set aside.

Halve the avocados, remove the seeds, and remove the "meat."  Chop or dice into crouton-sized cubes.  Put in a large serving bowl.  Add lemon juice, 3 Tbsp olive oil, and dried basil

Cut raw bacon into small pieces (we recommend using kitchen shears).


**Note** If you don't want the mess of cooking bacon, consider a pre-cooked bacon (King Kullen carries several varieties).  Heat in microwave to prepare for recipe.


While pasta is cooking, heat remaining 3 Tbsp olive oil over medium-high in a large, deep saucepan or pot.  Once heated, cook garlic until browned and fragrant (about 1 minute).

Add shrimp to oil and garlic.  Cook until pink and translucent, stirring occasionally.  Add to pasta.

Add cut bacon to the pan used for shrimp.  Cook until crispy, stirring frequently.  Put on a paper-towel lined plate to drain any bacon grease.


**Note** We recommended the deep pan or pot to reduce splatter.


Add drained bacon and pasta to the bowl with avocado and shrimp.  Mix thoroughly.  Add salt and pepper to taste, and serve with shredded Italian cheese.