March 2017
The local grocer offers some recipes to celebrate National Frozen Food Month and St. Patrick's Day.
March is National Frozen Food Month, and the ideal time to stock up on frozen foods at the local supermarket. Later in the month comes everyone's favorite Irish holiday. All the traditional St. Patrick's Day food favorites can be found at King Kullen Grocery Co., and the local grocer's Frozen Department has options for every meal of the day from breakfast to dinner, as well as dessert and snack time.
Frozen Food Recipes
King Kullen's Frozen Department will be running various sales throughout the month, highlighting some of the most popular, convenient and delicious meal options to make their customers' lives easier. During the month of March, Easy Home Meals has countless tips and facts on frozen foods, how they benefit customers, what options are available to them, how to select them and how to store them.
Breakfast
Frozen fruit is always in season and there's little to no prep time involved. Frozen fruit is also ideal for smoothies, since the fruit doubles as ice. For something new, try this Blueberry Paradise Smoothie recipe from DOLE (https://www.pinterest.com/pin/199917670939140930/). Berries are a favorite, but diced mango, peaches and pineapple are sweet and delicious frozen choices too. Pancakes, waffles, bagels, muffins, breakfast sandwiches and more are available for quick heating up during busy, on-the-go mornings.
Lunch
Frozen meals make sticking to perfect portions much easier. Lean Cuisine and SmartOnes offer tasty dishes that allow customers to eat the foods they love with controlled portions. For those doing Weight Watchers, SmartOnes even lists the Weight Watchers points on the box for easy tracking.
Dinner
This month, avoid ordering take-out and have ready-made, perfectly portioned frozen meals on hand to quickly heat up. Stir-fry, meatballs and pasta varieties make weeknight dinners quick and painless.
Frozen chicken cutlets, tenders, strips and chunks or fish fillets, tenders, steaks and sticks can also be prepared quickly and served with a healthy frozen veggie, French fries or onion rings as a side dish.
Stock up on frozen fruits and veggies, and all of the dirty work of dicing, chopping and slicing is already done. Simply pop frozen veggies in the microwave for a quick side dish or sauté frozen greens in garlic and olive oil.
According to Easy Home Meals, frozen veggies are always in season and add extra flavor to casseroles, soups, pasta, pizzas and other meals.
Dessert
From ice cream to frozen fruit bars, King Kullen's Frozen Department has options for everyone. Pie and cake varieties taste just like homemade and save time when making dessert for a get-together or holiday.
Snacks
Frozen fruit is great for healthy snacking. Edamame is a simple and healthy snack to enjoy, just heat up in the microwave, sprinkle with salt and enjoy. Quesadillas, chicken nuggets, pizza rolls, potstickers, soft pretzels and more are easy snacks for small and large groups.
Frozen Food Tips
Easy Home Meals recommends these tips to customers who are shopping for and storing frozen foods:
Keep the freezer at a proper temperature, no higher than 0 F.

When stocking the freezer, put a purchase date on all frozen food products and rotate foods, putting newly purchased items in the back of the freezer.

Use products on a "first in, first out" basis.

Restrict over-buying and over-indulging by heading to the frozen food aisle first.

Keep the freezer clean to prevent foul tastes and odors.

Thaw with care, preferably at refrigerated temperatures less than 40 F, less ideally under running water no warmer than 70 F.

Do no refreeze thawed frozen foods for safety and quality reasons.

Have sufficient storage space so that refrigerated air can circulate around the food.

Pack all frozen food together to help maintain their cold temperature.
St. Patrick's Day Recipes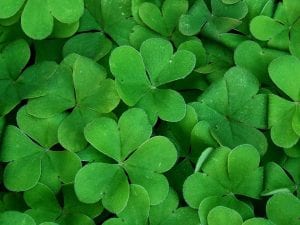 Corned Beef and Cabbage is the staple of any St. Patrick's Day dinner table. For slow roasting, try this Roasted Corned Beef and Cabbage recipe (https://www.pinterest.com/pin/199917670939140969/) or for a one-pot dinner try this Slow Cooker Corned Beef and Cabbage recipe (https://www.pinterest.com/pin/199917670939140971/).
Turn regular recipes into festive St. Patrick's Day dishes using green food coloring. Pasta dishes can be turned green by placing a few drops of food dye into the pasta as it cooks. Keep guests snacking with this Irish Nachos recipe (https://www.pinterest.com/pin/199917670939141178/) that everyone will be wanting more of.
Turn chocolate chip cookies, cakes, cupcakes and icing Irish green with food coloring. Also, try a festive, boozy adult-only recipe for Bailey's Irish Cream Brownies (https://www.pinterest.com/pin/199917670939141169/).
Irish Soda Bread
Introduced in the early 1800s, Irish Soda Bread was a way for people who did not own ovens to easily make bread. It is made with the most basic and inexpensive ingredients – flour, baking soda (which was used to leaven it rather than using yeast and kneading the bread), buttered or soured milk to moisten and activate the baking soda, and salt. Throughout the years, other ingredients have been added, such as butter, eggs, raisins and caraway seeds.
Before baking, a cross is cut across the top of the bread. Aside from allowing heat in to assist cooking, this is done for superstitious reasons. Cutting a cross atop the bread was thought to ward off the devil and protect the household. It also helps to evenly break the bread once it comes out of the oven, making it a symbolic breaking of the bread. King Kullen's Bakery department has freshly baked Irish Soda Bread with and without caraway seeds.
St. Patrick's Day Leftovers
The days following a St. Patrick's Day celebration means lots of leftovers. Eating the same leftovers can get boring pretty quickly, so rather than letting any food go to waste, try some new creative recipes.
Use leftover corned beef to make Corned Beef Omelets the next morning (https://www.pinterest.com/pin/199917670936980358/). For lunches, pack Corned Beef and Cabbage Quesadillas ( https://www.pinterest.com/pin/199917670936980298/). Ready in under 20 minutes, Reuben Crescents (https://www.pinterest.com/pin/199917670939141033/) are a quick and easy choice.
Time to Shop
King Kullen makes shopping for everyday meals and social gatherings easy this March. Just stop by the nearest King Kullen store to pick all the ingredients needed to try their recommended frozen and festive recipes.