December 2017
The local grocer shares a variety of breakfast recipes worth trying in 2018.
A new year is a new opportunity to try new recipes. King Kullen has some suggestions to share with family and friends in 2018. Breakfast is the most important meal of the day for many. Start the New Year with a delicious breakfast spread everyone will want to dig into. From make-ahead weekday breakfasts for one to brunches to share with the whole family, King Kullen has ideas to simplify any morning.
Sweet & Sugary Recipes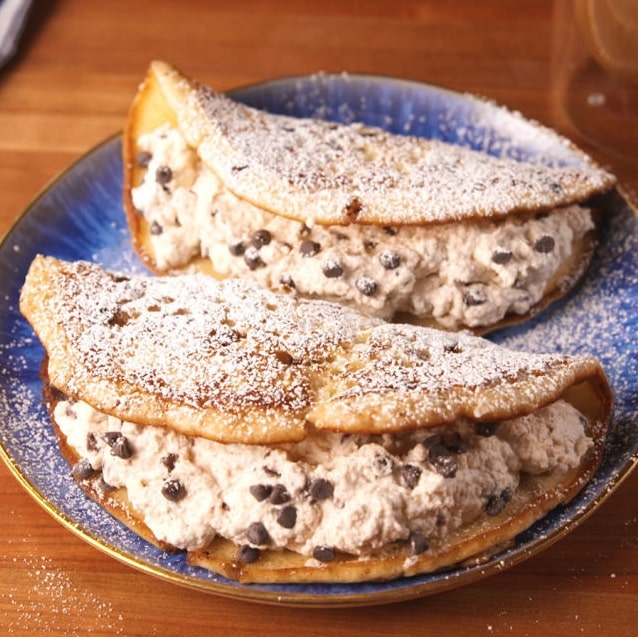 Healthy habits starting tomorrow? Perfect. These recipes are not the healthiest and that's okay. A sweet treat for breakfast every now and again is well-deserved and much-needed.
Enjoy dessert for breakfast with this recipe for Cannoli Pancakes. This decadent dish is easier to make than expected, and breakfast will be ready in just 30 minutes. Top with fresh strawberries, blueberries or raspberries for extra flavor.
Try crepes for breakfast! BuzzFeed demonstrates How To Make Crepes Four Different Ways with this recipe. Each variety calls for flour, eggs, butter, sugar, and milk. Chocolate Strawberry, Berry Cheesecake, Caramel Banana and S'mores are all options. Sounds like a win-win-win-win!
Upgrade toast, bagels, French toast, waffles and pancakes with Cinnamon Honey Butter. One stick of softened salted butter, ½ teaspoon ground cinnamon and 2 tablespoons honey are the only ingredients needed for this spread. Whip it together in the morning, or make ahead and store it in the freezer.
Make Ahead Recipes
Life is much easier with make-ahead breakfast recipes. Roll out of bed and prepare breakfast with minimal effort with the help of these recipes. Minimal prep and bake time will limit the amount of morning mayhem.
Crème Brulee French Toast Casserole sounds intimidating but this make ahead dish can be made the night before and baked the morning of. Creamy and sweet, this breakfast will have anyone asking for seconds. Keep this recipe in mind for special breakfasts too, including birthdays and holidays!
Enjoy a savory breakfast dish with Cheesy Tater Tot Casserole, topped with cheese and bacon. Every layer of this breakfast bake is irresistibly scrumptious. Assemble this dish the night before, and simply put it in the oven the next morning for just 35 minutes.
In a half hour have Breakfast Ham, Egg and Cheese Sliders ready for the oven. Make them the day before and refrigerate or bake immediately for cheesy sandwiches. This recipe is great for feeding a large group of people. Double or triple the recipe, and store the leftovers in the freezer for easy microwavable meals in the future.
Healthy Options
Stick to the "New Year, New Me" theme and opt for healthy dishes with veggies, egg whites and healthier substitutes to kick off 2018. Keep in mind, more fiber and protein in the morning translates into more energy throughout the day.
Omelet lovers can still start the morning with cheese and eggs. Egg white veggie omelets are a healthy alternative worth trying. Set up an omelet bar with a variety of vegetables to add in. Mushrooms, spinach, tomatoes, peppers, onions and zucchini are just a few options. Switch things up with different cheese too! Cheddar, American, swiss and feta are popular favorites.
Egg White Breakfast Cups are easy to make for large groups of friends and family. Spinach, tomatoes, egg whites, salt and pepper are all that's needed. The cups only need to be in the oven for 15 minutes before they are ready to be served. According to Buzzfeed, each cup is only 46 calories! Make an extra batch and refrigerate for a grab and go breakfast on busy mornings. Yes, this means sleeping in and eating well all week are both possible!
Stay full long after breakfast with Turkey Bacon Breakfast Tacos. These tacos are packed with flavor and fiber. The recipe calls for egg whites, shredded cheddar, turkey bacon, cherry tomatoes, and corn tortillas. Top with slices of avocado for added protein.
Start Shopping
Sweet, savory, or both? King Kullen has options to satisfy everyone's breakfast preferences. Preparing the same breakfast every day gets old very quickly. These new restaurant-ready recipes will add variety to morning meals. Find everything needed for these breakfast recipes at the nearest King Kullen store. Happy breakfasting!