With Easter fast approaching, we're sure you're planning on dyeing eggs within the next few days.  King Kullen has all the supplies you'll need for traditional or simple egg dyeing but if you were looking to switch things up this year, check out this list we've created of alternative designs, patterns and decorations you could try instead.
If you're solely using food coloring, here's a guide from McCormick on the colors and shades you can experiment with using their dyes.  From pretty spring pastels to vibrant and bold colors, they've got you covered.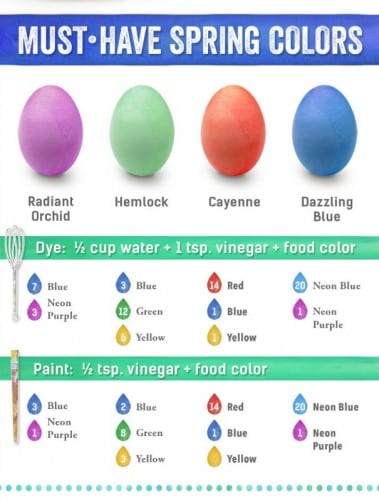 Source: http://dollarstoremom.com/2014/03/easter-egg-dye-guide-dye-color-recipes/
Switch things up with these fun and simple egg decorating tutorials that the kids will love.  You probably have all of the ingredients for these crafts already in your home.
Melted Crayon Easter Eggs!
Cook your eggs and let them stand in hot water for 10 minutes after taking them off the heat.  Deposit them into an egg carton and using Crayola crayons, have the kids decorate them while they're still hot.  The colors stay bold even after drying and are specially designed by your little ones!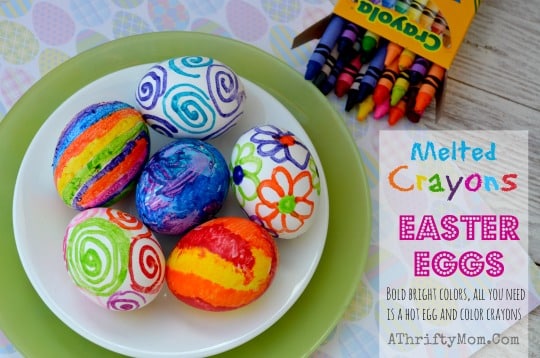 Source: http://athriftymom.com/melted-crayon-easter-eggs-how-to-dye-easter-eggs-with-melted-crayons-easter/
Swirl Easter Eggs
Using shaving cream and food coloring, you can make beautifully colored Easter eggs.  Place shaving cream in a dish, let the kids squeeze drops of their favorite food coloring randomly across the dish, and then drag a toothpick through the shaving cream in random lines. To get a layering effect, be sure to make large swirls and circles throughout the colors. 
Place your egg on the shaving cream and then roll in a straight line from one side of the dish to the other.  Place it on a surface where it won't roll, let dry for about 10 minutes and then clean it using a paper towel.  The colors will stick and you will have vibrant colored Easter Eggs!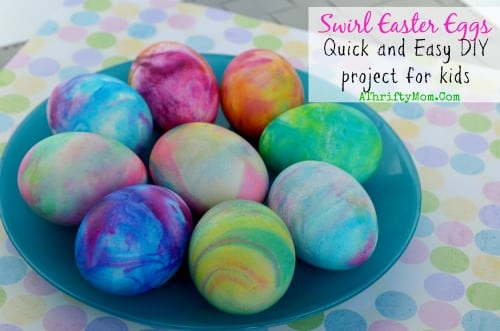 Source: http://athriftymom.com/swirl-easter-eggs-how-to-dye-easter-eggs-with-shaving-cream/
Kool-Eggs
If you've got packets of Kool-Aid mix lying around the house then you've got a new method to dyeing Easter eggs this year!  Even if you don't have any in the house, each packet is only $1.00 and all you need to mix the packets with is water!  Let the eggs sit in that mixture for 5-10 minutes.  The longer they sit, the brighter they'll be!  Remove, let them dry and you've got bold and vibrant colored eggs in minutes.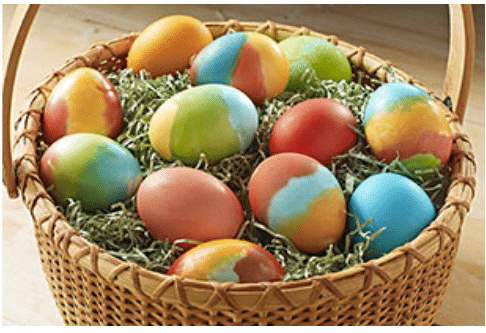 Source: http://www.kraftcanada.com/recipes/kool-aid-tie-dye-easter-eggs-144098
If you're looking to get REALLY creative, try these!  You'll be sure to impress your friends and family, and probably yourself!
Silk Dyed Easter Eggs!  
Grab old silk ties or handkerchiefs and use them to create beautiful patterns on your Easter Eggs.  Wrap them in the silk first, then white fabric, tie it up, and then boil in water and vinegar for 15 minutes.  Let them cool, and then unwrap.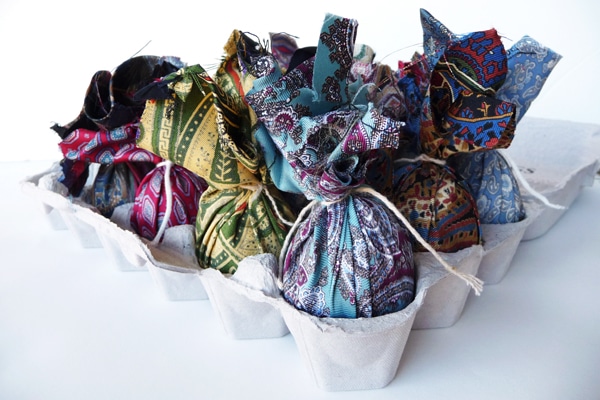 Source: https://ourbestbites.com/silk-dyed-eggs-aka-tie-dyed/
DIY – Natural-Dye Easter Eggs!
Did you know that you can create egg dyes with fruits and veggies you eat regularly?  You can use carrots, red cabbage, blueberries, beets, and onions to create natural and vibrant colors to dip eggs in.  Mix these fruits and veggies with salt and vinegar, soak for 5-10 minutes, remove and let dry!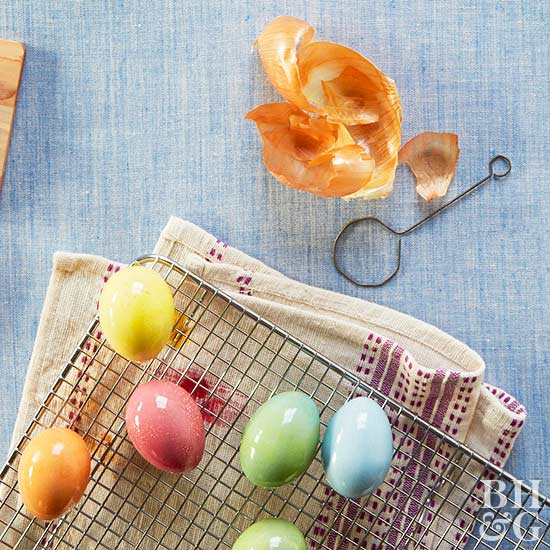 Source: https://www.bhg.com/holidays/easter/eggs/natural-easter-egg-dyes/