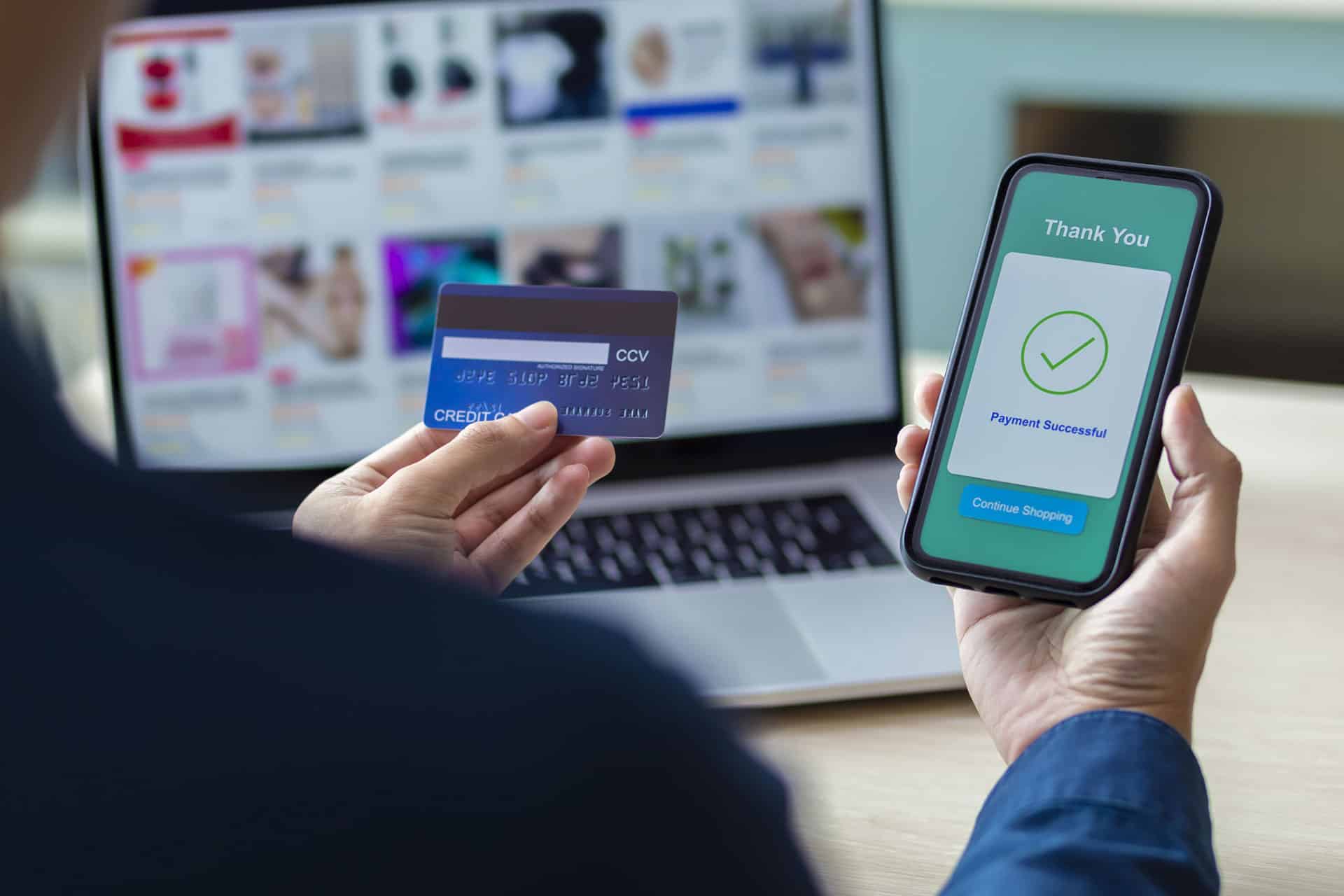 Delivery Locations
Home delivery service is currently available in the following locations:
Bay Shore
Amityville 11701
Babylon 11702
Bayport 11705
Bay Shore 11706
Bellmore 11710
Blue Point 11715
Bohemia 11716
Brentwood 11717
Brightwaters 11718
Central Islip 11722
Commack 11725
Copiague 11726
Deer Park 11729
East Islip 11730
East Massapequa 11758
Farmingdale 11735
Farmingdale 11737
Farmingville 11738
Great River 11739
Holbrook 11741
Holtsville 11742
Islandia 11749
Islip 11751
Islip Terrace 11752
Lindenhurst 11757
Massapequa 11758
Massapequa Park 11762
Melville 11747
Merrick 11566
Nesconset 11767
North Babylon 11703
North Bellmore 11710
North Great River 11752
North Massapequa 11758
North Merrick 11566
North Wantagh 11793
Oakdale 11769
Patchogue 11772
Plainedge 11758
Sayville 11782
Seaford 11783
Wantagh 11793
West Babylon 11704
West Islip 11795
West Sayville 11796
Wheatley Heights 11798
Wyandanch 11798
Bridgehampton
Amagansett 11930
Bridgehampton 11932
East Hampton 11937
Hampton Bays 11946
North Haven 11963
North Sea 11968
Northwest Harbor 11937
Noyack 11963
Sag Harbor 11963
Sagaponack 11962
Shinnecock Hills 11968
Southampton 11968
Springs 11937
Tuckahoe 11968
Wainscott 11975
Watermill 11976
Fire Island – Bay Shore
Atlantique 11770
Dunewood 11770
Fair Harbor 11770
Kismet 11770
Ocean Bay Park 11770
Ocean Beach 11770
Saltaire 11770
Garden City Park
Albertson 11507
Baxter Estates 11050
Bayside 11361
Bayville 11709
Bellrose 11426
Bellerose Terrace 11001
Bethpage 11714
Brookville 11545
Brookville 11548
Carle Place 11514
Cold Spring Harbor 11724
Douglaston 11363
East Hills 11576
East Meadow 11554
East Norwich 11732
Elmont 11003
Floral Park 11001
Flower Hill 11030
Flower Hill 11050
Franklin Square 11010
Garden City 11530
Garden City Park 11040
Glen Cove 11542
Glen Head 11545
Great Neck 11020
Great Neck 11027
Great Neck Estates 11021
Great Neck Gardens 11023
Great Neck Plaza 11021
Greenvale 11548
Harbor Hills 11023
Hempstead 11550
Herricks 11596
Hicksville 11801
Jericho 11753
Jericho 11783
Jericho 11853
Kensington 11021
Kings Point 11024
Lake Success 11042
Lake Success 11027
Lakeville Estates 11040
Levittown 11756
Little Neck 11362
Locust Valley 11560
Manhasset 11030
Manhasset Hills 11040
Manor Haven 11050
Mineola 11501
Munsey Park 11030
Muttontown 11791
Muttontown 11753
Muttontown 11545
Muttontown 11732
Muttontown 11771
New Cassel 11590
New Hyde Park 11040
North Hills 11576
North New Hyde Park 11040
Oakland Gardens 11364
Old Bethpage 11804
Old Westbury 11568
Plainview 11803
Plandome 11030
Plandome Heights 11030
Plandome Manor 11030
Port Washington 11050
Port Washington North 11050
Queens Village 11427
Queens Village 11428
Queens Village 11429
Queens Village 11411
Roslyn 11548
Roslyn Harbor 11576
Roslyn Heights 11577
Russell Gardens 11021
Saddle Rock 11023
Saddle Rock Estates 11021
Salisbury 11590
Sands Point 11050
Sea Cliff 11579
Searingtown 11507
South Hempstead 11550
Syosset 11791
Thomaston 11021
Uniondale 11553
Upper Brookville 11545
Westbury 11590
West Hempstead 11552
West Hills 11743
Williston Park 11596
Woodbury 11797
Island Park
Arverne 11962
Atlantic Beach 11509
Baldwin 11510
Barnum Island 11558
Bay Park 11518
Bayswater 11691
Cedarhurst 11516
East Atlantic Beach 11509
East Rockaway 11518
Edgemere 11690
Far Rockaway 11690
Far Rockaway 11691
Freeport 11520
Harbor Isle 11558
Hewlett 11557
Hewlett Bay Park 11557
Hewlett Harbor 11557
Hewlett Neck 11557
Inwood 11096
Island Park 11558
Lawrence 11559
Lido Beach 11561
Long Beach 11561
Lynbrook 11563
Malverne 11565
North Lynbrook 11563
Oceanside 11572
Point Lookout 11569
Rockville Centre 11570
Rockville Centre 11571
Roosevelt 11575
Saddle Ridge 11598
South Valley Stream 11581
Valley Stream 11580
Valley Stream 11581
Valley Stream 11582
Wave Crest 11690
Woodmere 11598
Woodmere Park 11598
Woodsburgh 11598
1
Who do I contact with any issues I have with online ordering?
If you have any questions, comments, concerns, or suggestions regarding King Kullen's shop online, email our corporate team at ShopOnline@kingkullen.com. You may contact the shop online team at our Corporate Office during business hours (Monday – Friday 8AM-4PM) in our Corporate Office at
(516) 827-6353
or
(516) 827-6233
.
2
Do you have item limits?
We are experiencing reduced availability of some products. Due to increased demand and in order to satisfy all King Kullen customers, we will be applying a limit of 2 on high-demand items.
3
Do you offer rain checks?
Due to the uncertainty of product supply, advertised items may become unavailable. Unfortunately, we will not be issuing rain checks for out of stock sale items.
4
Do you require a minimum order size?
Our Bay Shore, Bridgehampton, Garden City Park, and Island Park locations currently require a minimum order of $75 (before fees) for both pickup and delivery orders. Orders to be sent to Fire Island require a $200 minimum order size (before fees).
5
What if I can't find a time slot?
King Kullen's shop online time slots and hours are limited due to increased demand and product availability. Please refrain from calling the store directly, as they cannot open time slots for you.
6
What are your delivery and pickup fees?
Our sales circular goes into effect on Fridays and ends on Thursdays. Prices for online orders are based on the sale prices that are in effect on the day the order is delivered to or picked up by the customer (not the day the customer places the order). By way of example, if a customer places an order on Wednesday to be delivered Saturday, the sale prices that are in effect on Saturday are what dictate the price paid by the customer. Prices and fees will be an estimate until your order is rung up at the store. Delivery fees may show in your estimate but will be reduced or eliminated based on actual order size. Delivery fees will be calculated based on actual order size (which may vary due to random weight items, out of stocks, etc.) at the time your order is rung through by your personal shopper.
7
Will you make substitutions for out-of-stock items?
At this time, King Kullen is unable to contact customers regarding substitutions for items that are out of stock. We can substitute out of stock items for similar items (either different size or brand). If you would like your personal shopper to make substitutions for out of stock items, please select "allow substitutions" before checking out.
8
Why are my items on my order doubled?
If you have selected the Change button on an order and go back to the My Account link and select Change again on an order, this can potentially cause your items to be doubled. When the change order is initiated, the contents of your order are placed back into your shopping cart. This then allows you to modify the contents of your order that you have placed. If you initiate a change order for the same order multiple times, you end up doubling your items each time you do this process. When you select Change Order multiple times, you will be presented with a warning message stating that "You currently have items in your Shopping Cart. If you wish to change Order 123456, the contents of Order 123456 will be added to the contents of your Shopping Cart. Do you wish to change this order?" If you select "Yes" to this warning message, any items that were added from your first change request will be added to your shopping cart again. This will cause items in your cart to be doubled. The doubling of the items will only occur for those items that were on your original order and will not occur for items that you have added since you selected the first change order request.
9
Am I going to be charged twice when I modify my order?
After you have modified your order, you must go through the checkout process in order for the transaction to be completed. As part of the checkout process, you will be asked to re-verify your information: address, pickup or delivery, and payment method. This checkout process will not trigger a duplicate transaction. You will only be charged the last modified order total once the order has been completed in the store.



How do I modify my order?
When modifying an order, you will have the ability to add or remove items that you have placed on your original order. You will be able to modify an order online only if your store allows edits to be made to an existing order, or if your order has not been fulfilled by the store. If you are eligible to edit your order, a Change Order button will be available to you on the Order History page. If the Change Order button is not present on the Order History page, this means that your order is not eligible to be modified and you will need to contact the store to make changes to your order.
To modify your order, follow these steps below.
To modify an order, select 'My Account' at the top right-hand corner of the page.


On the My Account page, select the Order History hyperlink located on the left-hand side of the page.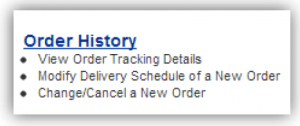 This will bring up a list of orders that you have placed on the website. Here is where you will be able to identify if you are able to modify your recently placed order. Under Options Available for Order will be an option for Change.


To modify an order, select the 'Change' button.
When selecting the Change button in Order History, all of the contents of your order will be placed back into your cart. From within the View Cart module, you will have the ability to change the quantities of your order and the ability to remove or add items to your cart.
Please be aware that if you select My Account again, and you select Change your Order more than once, you will run the risk of doubling your order (see the question below for more information).
At the top center of the page, you will see a box that contains your order number and when the change order expires. Here you can make changes to your order up until the time that is displayed. If you are making changes to your cart and have not placed an order again before the timer reaches zero, your changes will be lost and you will need to initiate another change order.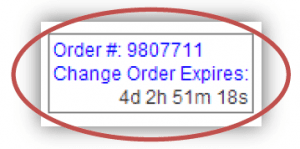 When you have finished updating your order, you will need to initiate the checkout process again. Re-verify that the information on the order is correct, including the pick-up and delivery dates and times. This information can be changed if needed as you go through the checkout process.
If you paid for your order by PayPal, you will not be charged each time you modify your order. The amount that you will be billed is the latest order total of your most recent order. You will be billed when the order has been completed in the store and not at the time you place the order.