Looking for something different for dinners?  King Kullen Meat Departments just began carrying DiLuigi Foods Chinese Sausage.  We have sampled it in our Corporate Office, and a few employees have tried it at home.  The verdict?  Pretty amazing, actually.  Several taste testers commented that this flavorful Chinese Sausage tasted nearly identical to boneless pork spare ribs from your local Chinese takeout restaurant.  Makes sense… Chinese BBQ sauce, Soy Sauce, Miso are all on the ingredient label.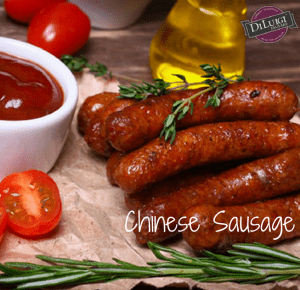 Not sure what to do with this sausage?  For a quick meal, it would go great with brown rice or basmati rice.
Here's a great recipe featured on Diluigi's website:
Grilled Chinese Sausage Skewers with Pineapple and Peppers – this recipe takes only twenty minutes.
Ingredients:
1 package DiLuigi Chinese Sausage
1/2 fresh pineapple, diced into large pieces (can also use canned or frozen pineapple chunks)
1 red pepper (cut into large chunks)
1 yellow pepper (cut into large chunks)
1 Spanish onion (peeled and cut into large chunks)
Vegetable oil
Twelve 10″ skewers
Soak skewers in water while cutting vegetables
Toss vegetables with light coating of vegetable oil (if you use too much, it will flare up and char your skewers)
Alternate sausage, fruit and vegetables onto skewers.  Place on grill.
Grill until cooked through, turning every few minutes to prevent charring.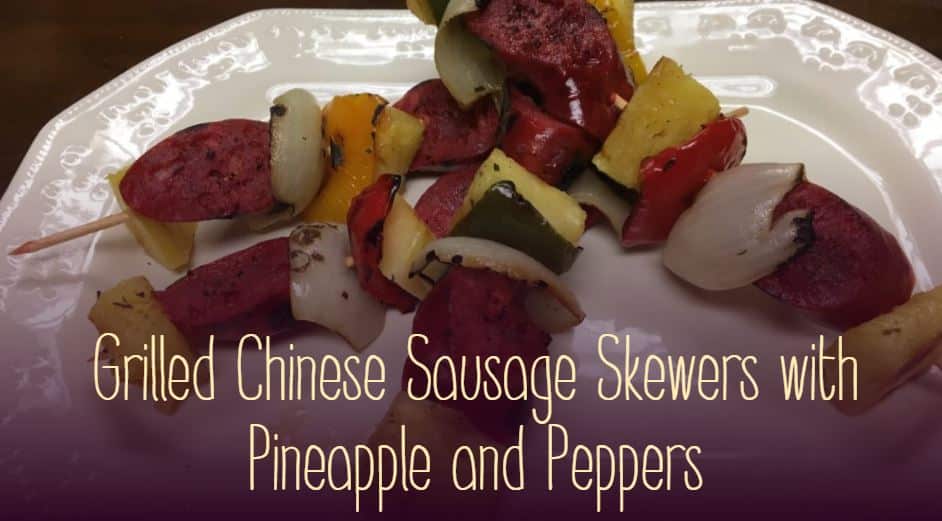 Other recipes for Chinese Sausage can be found here:
Skillet Chinese Sausage with Oven Roasted Potatoes and Onions
Chinese Sausage Po Boy
Chinese Sausage with Collard Greens
Macaroni and Cheese with Chinese Sausage