Here's an easy meal that is full of flavor, and great for company.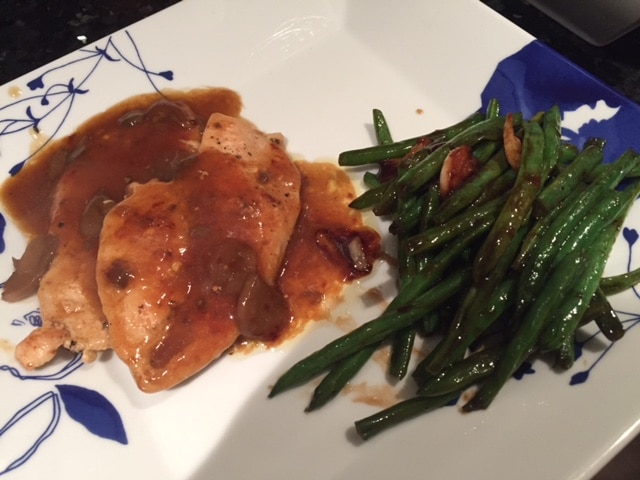 Ingredients:
1 lb of boneless skinless chicken cutlets
1 container Marsala sauce
1 lb green beans
1 Tbsp butter
1 Tbsp olive oil
4 cloves of garlic, peeled and smashed (We recommend using the back of a spoon to smash garlic cloves)
2 Tbsp vegetable oil
1/3 cup oyster sauce
1 tsp sugar
Salt and pepper
Method of Preparation
Heat butter and olive oil over medium heat in a nonstick skillet.  While this is heating, season chicken breasts with salt and pepper on both sides.  Brown on both sides, approximately 4 minutes per side.
While chicken is cooking, prepare green beans.  If using fresh green beans (preferred method), wash all green beans and snap ends off.  We recommend Farm Fresh Green Beans from King Kullen's produce department.
Combine oyster sauce, sugar and water and whisk to combine, until the sugar dissolves (we whisked it in the measuring cup, to save on cleaning an extra bowl).
Heat vegetable oil in a large nonstick pan over high heat.  Once heated, reduce heat to medium-high and cook garlic until fragrant, stirring frequently, for about a minute.  Add green beans to the pan and season with a teaspoon of salt.  Stir-fry until the green beans are bright green (about 1-2 minutes).
Add the sauce mixture to the green beans and stir-fry until the green beans are tender, approximately 6-7 minutes.
While the green beans are cooking, add the Marsala sauce to the chicken pan and heat, approximately two minutes.  Sauce will thicken.